An intimate hotel in Sopot
Hotel Testa is situated in an excellent location, only 55 meters from the sandy beach in Sopot. The facility is surrounded by the natural seaside greenery and the hotel's garden. Hotel Testa is located in a quiet, southern part of the Sopot health resort. The building is situated in a fenced and closed area. The famous Pier and Monte Cassino Street are about a 10-minute walk away, and the seaside bicycle path and the promenade are right next to the hotel.

Luxurious rooms and apartments
We offer 13 double rooms, 2 single rooms, 3 family suites with an area of 53 m2. All rooms are air-conditioned and equipped with LCD TV, telephone, digital clock with alarm clock and USB, minibar, welcome kit, Wi-Fi and a comfortable bathroom with shower.

Słona Woda Restaurant
The Słona Woda restaurant is a place for everyone who is looking for exquisite dishes based on carefully composed recipes and regional products with a sophisticated serving technique. Our concept is to prepare dishes based on fresh and regional products from trusted suppliers, according to the culinary methods of the Chef and his team.
Delicious breakfasts are served daily from 8:00 to 10:30, and dishes from the refined a la carte menu from 13:00 to 21:00.


Conference rooms
The Testa Hotel has arranged a universal, modern conference space in a unique location, 55 meters from the beach in Sopot. The room, located on the first floor of the hotel, can conveniently accommodate a banquet for 36 people (at round tables) or a conference for 40 people (theater style).


Great hotel with very nice staff and great breakfasts

The hotel is extremely charming and atmospheric, decorated in a modern but cozy way. We liked the beautiful view from the window and the beautiful room the most. The breakfasts are probably the best we have had the opportunity to try so far in various hotels. A very large selection and you can really see the quality of the products served. "

Bartosz, Booking.com, January 2020
Sensational stay – despite the limitations of the red zone

The hotel is situated in a quiet part of Sopot. During the Covid pandemic, it was perfectly prepared to protect hotel guests who didn't feel the effects of the restrictions thanks to the attitude of the staff. We were surprised by the way the food was served. Excellent breakfasts and a la carte dishes were served individually for each guest. The rooms are extremely well-equipped (great idea with ironing equipment in the wardrobe). The stay at the SPA was solved very well – individual registration allowed for complete relaxation after long walks on the beach, located just 50 m away from the hotel. We leave calm and relaxed – see you soon."

Władysław, Booking.com, October 2020
Blissful relaxation

"This is our second stay and the highest rating possible. Great, helpful staff. Delicious and varied breakfasts, served cold, hot and as you wish. A beautifully located, intimate hotel with a nice atmosphere. See you soon!"

Małgorzata, Booking.com, September 2020
Average Booking.com review: 9,3 (Excellent)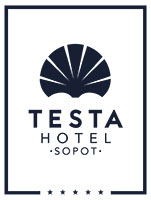 Hotel Testa
Kilińskiego Street 11a
81-772 Sopot
Hotel Testa
ul. J. Kilińskiego 11a
81-772 Sopot